Ultimos Posts
---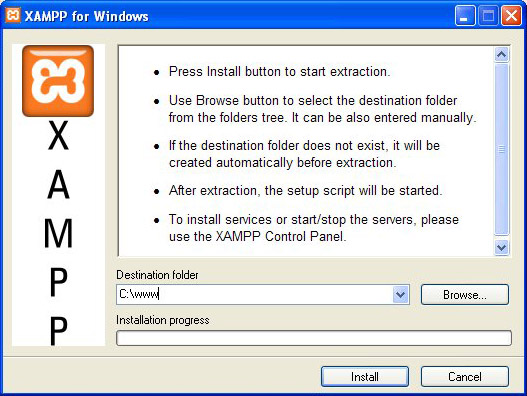 Descripcion:
The good news: The Solaris version has left beta status and is for the first time available as a full XAMPP version (currently only for SPARC, but we'll present a first x86 version at CeBIT next month). The bad news: There is no updated version for Mac OS X yet and for Windows, there will be no automated update from 1.7.3 to 1.7.4. We're very sorry about this.
We're proud to announce two new XAMPP versions for Windows and Linux today. In both versions we updated Apache to 2.2.14, MySQL to 5.1.41, PHP to 5.3.1, Perl to 5.10.1, phpMyAdmin to 3.2.4, and OpenSSL to 0.9.8l. An updated version for Mac OS X will follow soon, but currently the Apache refuses to perform his Xmas duty on a Mac.
I'm proud to announce two big news today: First, the new XAMPP with PHP 5.3.0 is finally released and allows everyone the experience of this new PHP version, and secondly, congratulations and many thanks to Carsten Wiedmann, who took over the responsibility for the Windows version. Carsten was able to simplify the Windows version by replacing the installer by a self-extracting archive without losing the ease-of-use of XAMPP.
Beta-Versionen sind ausschließlich zum Ausprobieren und Testen da. Wir würden uns allerdings sehr freuen wenn ihr einen kritischen Blick auf diese Version werfen könntet und uns berichtet, ob die Beta bei euch problemlos lief oder sie Probleme gemacht hat.
und gerade eben habe ich die Päckchen mit den Gewinnen zur Post gebracht. Zunächst zur Preisfrage: Wer gilt als der Vater des Apache Webservers? Die richtige Antwort ist: Rob McCool. Wer sich für weitere Details zu den Antworten interessiert, der sei auf meinen
Herzlichen Glückwunsch an die zehn Gewinner. Die Bücher und drei T-Shirts gehen an: Jan aus Hamburg, Michael aus Berlin, Daniel aus Pichl bei Wels in Österreich, Uwe aus Wiesenburg, Stephan aus Offenburg, Vadim aus Heidenheim und anderen, die aber nicht persönlich genannt werden wollen oder noch nicht auf meine Gewinnbenachrichtung reagiert haben. Viel Spaß beim Lesen (und Tragen)!!
Mit dieser XAMPP-Version endet auch unsere Unterstützung von PHP 4, d. h. ab dieser Version wird PHP 4 nicht mehr mit ausgeliefert. Nachdem PHP 4 seit Ende 2007 offiziell nicht mehr supported wird, war das die logische Konsequenz.
Das Leben ist kein Ponyhof. Mit einer ungewöhnlich langen und beschwerlichen 8-wöchigen Beta-Phase haben wir es endlich geschafft und können erneut eine neue finale XAMPP-Versionen zum öffentlichen Download anbieten.
Aktualisiert wurden in diesem XAMPP: MySQL (5.1.33), PHP (5.2.9) und phpMyAdmin (3.1.3.1). In den Linux und Mac OS X Versionen wurde zusätzlich auch noch der ProFTPD auf 1.3.2 aktualisiert und die Windows-Version enthält den aktuellen FileZilla FTP Server 0.9.31. Für die Early Adopter unter Euch haben wir in der Linux-Version noch die aktuellen Versionen der MySQL-Storage-Engines PBXT und PBMS gepackt, mit denen u.a. Blobstreaming aus der Datenbank ermöglicht wird.
Außerdem verlässt die Mac OS X-Version mit dem heutigen Tag den Beta-Status und wird in den regulären und vollständigen XAMPP-Release-Zyklus aufgenommen. Vielen Dank an Christian 'kleinweby' Speich für diese großartige Leistung und die Arbeit der letzten Monate.
The PHP BBQ tour is one week tour from Monday, 15.06 - Sunday, 21.06.2009 visiting the german PHP user groups. The tour is an offering and a suggestion to the user group to come together for a barbecue instead of meeting in conference rooms in the middle of the summer, when the days are long. Everybody is invited to join the tour and to visit the PHP user group in his neighbor town.
In this version of XAMPP we mainly updated: MySQL (5.1.33), PHP (5.2.9), and phpMyAdmin (3.1.3.1). The Linux and Mac OS X versions also contain updated versions of ProFTPD (1.3.2) and the Windows version updated FileZilla FTP Server to 0.9.31. And finally for all the early adopters we added current versions of the MySQL storage engines PBXT and PBMS to the Linux version of XAMPP.
With this version our support of PHP 4 ends and from this version on PHP 4 is no longer shipped with XAMPP. After PHP 4 was officially no longer supported since the end of 2007 this was just a matter of time.